Costa Rica Wildlife Expedition " SPECIAL PRICING FOR OCTOBER 2020 ONLY"

Puerto Jiménez, Costa Rica
Six Reasons Why You Will Love This Expedition
Bang for your Buck – Once you land, everything is included! Our expedition includes workshop fees, all accommodation and meals, ground and water transportation and local flights.
Small Numbers – The group is limited to ten people. Whether you've brought a high end DSLR or an iphone I'm there to help.
Dennis – Our friendly local guide knows the area like the back of his hand and can spot an army of ants a mile away.
My Expertise – Both in the field and behind the computer, I will be there to give you tips and techniques.
The Resort – The resort will exceed your expectations: the vast beauty of the grounds, the outstanding staff, and the variety of animals you will encounter just from your balcony!
The Food – The varied menu has something for everyone and the food is fresh and delicious. This is also a fishing resort, so when you hear "catch of the day", they really mean it.
More Details
I'm excited to announce my new photo expedition located beneath the jungle canopies of the Osa Peninsula. You will be flown to this remote location and immediately see why National Geographic Magazine describes the peninsula as "the most biologically intense place on earth".
The great people at Crocodile Bay Resort invited me to Costa Rica to team up with them and develop this 7 day expedition. The result is an itinerary chockablock full of cultural and conservation tours that with my guidance, will give you the images you've always dreamed of!
A short flight from the main airport takes us to our beautiful eco-resort nestled into a remote area where scarlet macaws fly freely above us, enormous humpbacked whales swim close to our shores and our only nosy neighbours are 2-toed sloths!
Workshop Itinerary
(factors such as weather and wildlife sightings can make our schedule subject to change)
Day One – San Jose Welcome
Exit the San Jose airport and look for your name card held by a friendly face. You'll take a 5 minute drive to the DoubleTree Hilton Hotel for one night. Grab your camera and explore the lush gardens, relax by the pool or swim up to the bar. Taste the delicious Costa Rican food at the hotel restaurant or walk a few blocks and try out the local craft beer eatery. At breakfast enjoy your first sip of the famous Costa Rican coffee at the complimentary buffet.
Day Two – Arrive at Crocodile Bay Resort/and half day of photography
You will be picked up from the hotel at a pre-determined time and transferred to San Jose airport. Climb aboard the 12 seat plane for a 45 minute flight to the Puerto Jimenez Airport, a 5 minute drive from our resort. Keep your camera handy for your first glimpses of the jungle!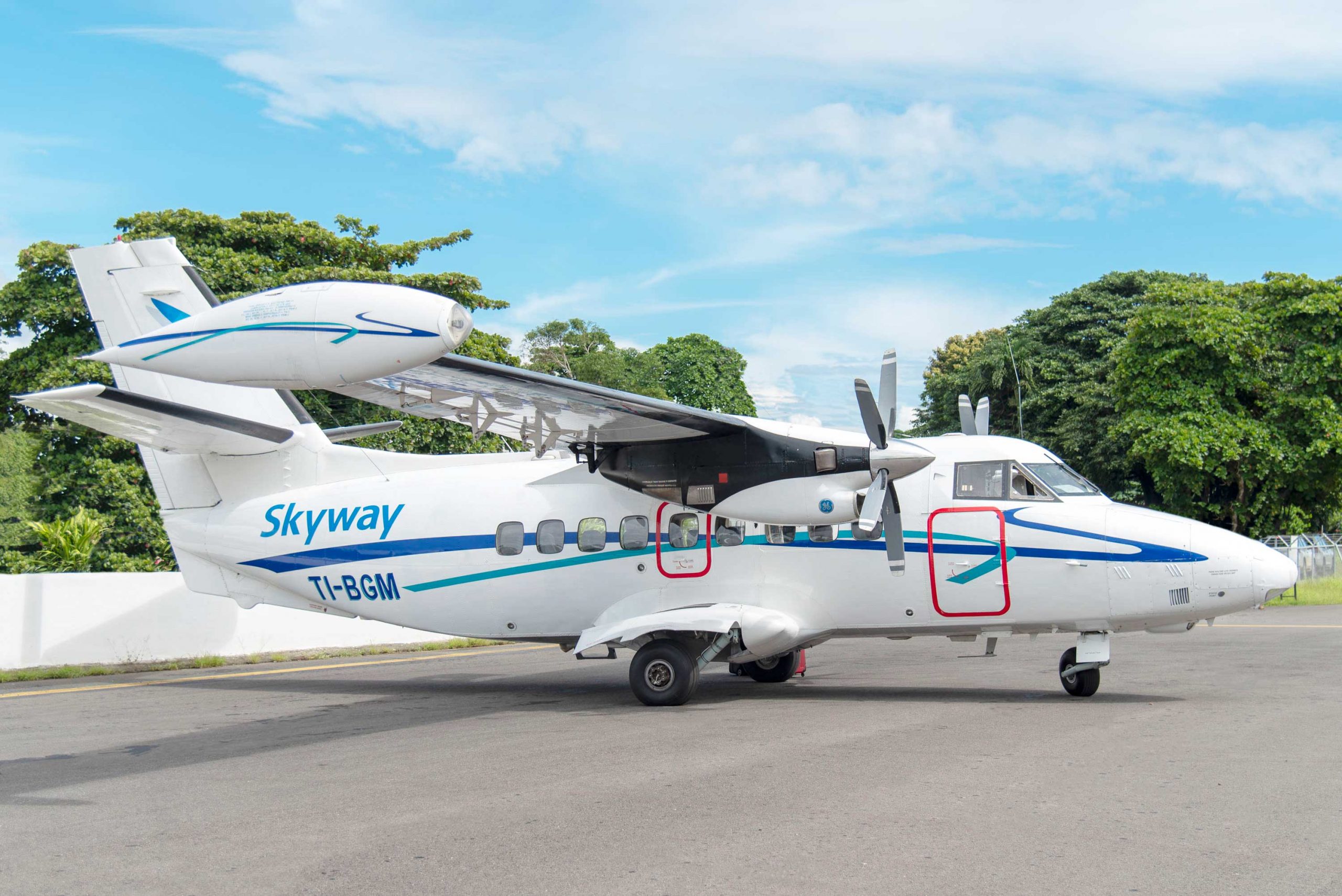 Check into the Crocodile Bay Resort. You will be struck by the beauty of this eco-friendly lodge and it's remote location under the jungle canopy. Just wait and the animals will literally come to you! You will also be overwhelmed by the friendly staff who are there to enhance your trip of a lifetime.
Depending on your arrival time, we will have lunch and review the itinerary of the week. We'll tour the resort property (time permitting).
Our first photo expedition is a trip to the Butterfly Farm. These colorful insects exist in some form almost everywhere in the world but rarely in the numbers found in Costa Rica. The people at the Butterfly Farm are helping to preserve these species that are disappearing due to Global Issues. This is our first opportunity to concentrate on macro photography.
We will also be having a night photography after dinner on the property.
Day Three – Full Day Excursion to Miramar and Matapolo
We will be in a 12 passenger Mercedes van cruising through a virgin forest area called Miramar or "ocean view" which refers to its commanding view of the Golfo Dulce. The Miramar and Matapolo area are known for the variety of wildlife you will encounter just a few feet from our vehicle – monkeys, sloths, macaws, toucans…everything you imagined when you were anticipating this trip. Matapolo is known for its remoteness, a hidden paradise amongst jungle and ocean. And if that's not enough for you, after dinner we will be out with our guide looking for the red-eyed tree frog during our night macro photography.
Day Four – Half Day Osa Wildlife Sanctuary
A glorious morning boat ride will take us across the Golfo Dulce.  Bring your bathing suit for a dip in the warm ocean!
In the morning we have the rare opportunity to photograph and interact with local rainforest creatures (like 2 and 3 toed sloth, spider and howler monkeys, macaws, parakeets and toucans) at the Osa Wildlife Sanctuary. The sanctuary rehabilitates injured or illegally captured animals. Our visit helps directly fund this noble effort.
Day 5 – Sierpe River Wildlife and Mangrove Expedition

This is the excursion where you will capture the images of a lifetime. These protected tributaries are teeming with abundant wildlife, easily spotted from the safety of our pontoon boat. For starters, boas hanging in the trees, caimans and crocodiles, turtles, 6 species of herons, iguanas galore!
Day 6 – Chocolate Farm Tour
Meet German (pronounced Herman) and his family and learn about this thriving example of agro-ecology. Set under the jungle canopy, you will be able to photograph and learn about a working chocolate farm. More macro opportunities, local lunch and of course…..freshly made dark chocolate!
Day 7 – Free day to be arranged by group ie one on one with Frank or other activities around the resort.
Day 8 – Farewell
We bid a sad farewell to new friends and the Osa Pennisula as we board our plane back to San Jose and home.